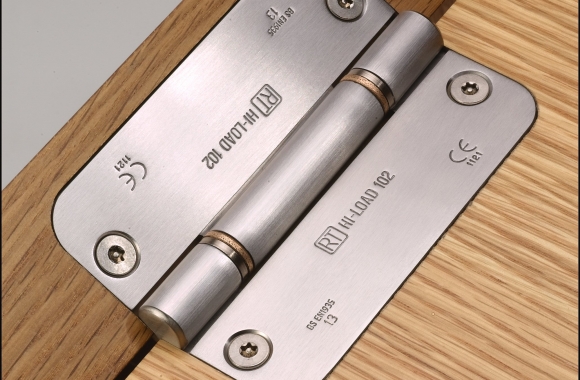 LOAD BEARING TECHNOLOGY
With any hinges, the absolute critical factors are the ability of the hinge not only to carry the weight of the door i.e. the load(s) being hung from it, but also the ability of the hinge to carry these loads during repetitive cycling – the arc of the door opening and closing, and not wear the critical load bearing components quickly.
HI-LOAD
Royde & Tucker developed the HI-LOAD bearing system in the 1980s in response to market demands for a low-friction, long-life, maintenance-free hinge. Since then, many millions of HI-LOAD hinges have been supplied and fitted to many types of buildings, including hospitals, schools, hotels and offices.
HI-LOAD hinges are unique in their construction and performance. The hinges are designed for longevity and as a 'fit and forget' solution; and because they do not wear, will not fail and require no maintenance, HI-LOAD hinges are not only offered with a 25 year performance guarantee, but have a tried and tested pedigree of having been in operation for over 25 years.
HI-LOAD hinges are available in mild steel (Grade CS4 rolled steel) or stainless steel, from Grade 304 to Grade 316 (the higher the grade, the greater the resistance to corrosion.
A wide range and finishes can then be applied to meet any building application. Other materials such as brass or other stainless grades can be used for specific site requirements or aesthetic reasons.
Site specific conditions can present challenges for both base materials and surface finishes and should be considered when choosing a specification.
BUILDING FUNCTION
Hospitals, public conveniences and airport WCs can all create hostile environments for material longevity by virtue of powerful cleaning agents being present.
Swimming pools provide a unique challenge in that the humidity and potential chlorine present in the atmosphere condenses onto fixtures during cooler periods, for example, at night and when the pool is not in use. In addition, modern methods of recirculating pool air (to reduce energy costs) can accelerate the corrosive processes. If not cleaned regularly the result is a build up of layers of highly corrosive chloric acid which can be exceptionally detrimental to inappropriately specified finishes and base materials.
Most door and frame timbers are acidic to some degree. Oak, Chestnut and Douglas fir are the worst due to the presence of volatile acetic acid which will attack metals and electro-plating in contact with the wood or in certain atmospheres. Please contact RT for advice and assistance wherever concerns arise with regards potential corrosive environments.