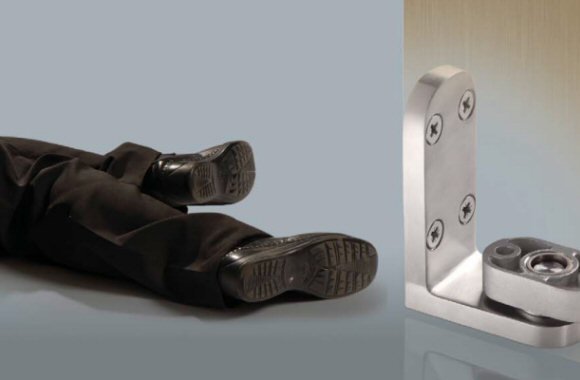 Doors which ordinarily open in one direction only, but which are required to open in the opposite direction in certain situations, can be fitted with a pivot hinge and emergency release bolt or stop.
The situation might arise, for example, in relation to an inward opening door to a wheelchair accessible WC. It is important that the door can be opened outward in the event that someone falls against the back of the door. If the person has lost consciousness or is unable to move themselves the only way of gaining access is through a double action pivot set. In addition all locks and indicator bolts should incorporate an emergency release facility.
ACCESSIBILITY
Approved Document "M" states with relation to this situation "Preferably, all doors to WC cubicles and wheel chair accessible unisex toilets open out or, if they open in, the door swing should not encroach into the wheelchair turning space or minimum activity space.", in addition "WC compartment doors, and doors to wheelchair-accessible unisex toilets, changing rooms or shower rooms have an emergency release mechanism so that they are capable of being opened outwards, from the outside in case of emergency".
The problem with outward opening doors is that they can be dangerous if opening into a corridor of fire escape route. The Double Action pivot set minimises this danger.
ANTI BARRICADE
Special consideration should be given to secure situations where an anti barricade facility is required to allow staff access if the door is being forcibly prevented from opening inwards. As the door is only mounted at two positions the whole doorset should be evaluated for agressive impact load suitability.
AESTHETICS
Frequently pivots are specified where there is an aesthetic requirement to not have any hinge knuckles showing, for example, on riser doors in corridors.